First impressions can be deceiving and this is the case at DS Machining Services. From the outside it looks like any other general sub-contract machine shop and Director, Paul Smith, downplays what the company does, describing their day-to-day work as doing anything for anybody. However, dig a little deeper and you discover that while they don't machine 'flying parts' as he describes aircraft components, they do machine some intricate work, in some awkward materials. To achieve this, the business relies on a mix of the skills of the 15 employees, including three apprentices, and its choice of machine tools and control systems.
Founded in 1994 by Dennis Smith the business is now run by Paul and his sister Dianne, who between them maintain the company ethos of delivering precision sub-contract machining, along with industrial plant and hydraulic ram repair, on-time to the highest quality. DS Machining Services' customer base tends to be within a 30 mile radius of its Chipping Sodbury factory, but customers have come from as far afield as Scotland and the south east of England. With a talent for producing one-off and low volume parts its machining capacity is in high demand. "We are definitely a general sub-contractor, in the sense that we will look at any job that is presented to us, but we do not have any allegiance to a specific industry sector, we just get on with whatever we are asked to do," says Paul Smith. "With our relatively young and skilled workforce, supported by our commitment to apprentice training, we know we can take on most jobs, whatever their complexity and deliver on time and to the highest quality. This is backed up by our machine capacity list"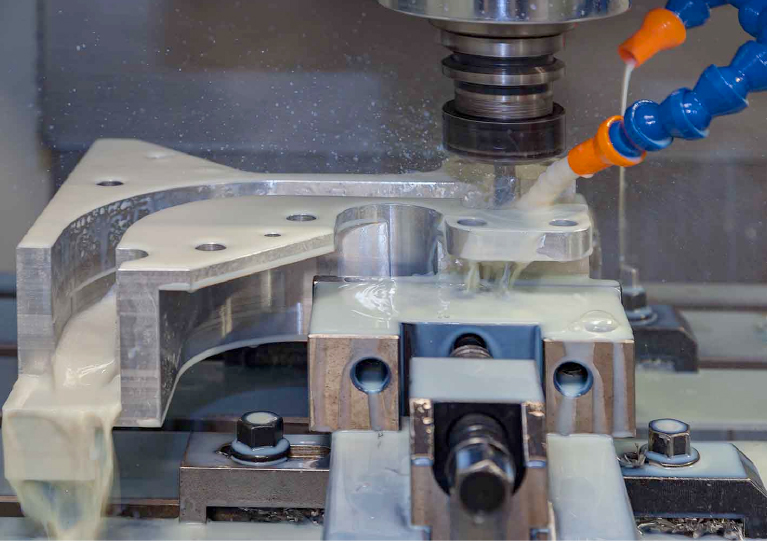 Any work undertaken by DS Machining Services is carried out on a mix of manual and CNC machinery, which includes six machines from XYZ Machine Tools. The first of these machines, an XYZ DPM 5000 mill, with an early version of the ProtoTRAK control, was purchased 14 years ago. "We bought this machine because of its 1500 mm table capacity. We looked at a manual mill and at other mills with control systems, but only XYZ with the ProtoTRAK got it right. For us the ProtoTRAK control was a game changer and we haven't looked back since." That first machine was bought to service one particular job, which DS Machining Services still has the contract for to this day. The advantages of the ease of use of the ProtoTRAK control meant that this machine was being used widely and was soon operating 40/50 hours a week and a second machine was bought within three months to take on some of the workload.
This early success with the ProtoTRAK control meant that when DS Machining Services was looking to replace it manual turning capacity, the ProTURN range of lathes from XYZ were at the top of his list. The first foray into ProtoTRAK controlled turning was with a VL425 (the forerunner of the current XYZ ProTURN SLX 425), which replaced an ageing manual machine. "With 2 metre between centres and an 80 mm spindle bore this machine allowed us to do things we couldn't do on our manual machines, opening up new opportunities for us. We were suddenly able to turn to grinding limits and achieve high quality surface finishes as a matter of course. Efficiency also improved. While a highly skilled manual turner may be able to keep pace with the XYZ lathe on a one-off, come the second off and beyond he would be left well behind." This large lathe was quickly followed by a smaller XYZ ProTURN SLX 1630, with its 400 mm swing over the bed and 760 mm between centre distance it took smaller work off the larger machine to free up capacity.
 Moving forward, the undoubted stars in DS Machining Services' capacity list are the two recently purchased XYZ ProtoTRAK LPM (Lean Production Machine) vertical machining centres. The first of these was bought in response to an increased demand for more complex milling and, the difficulty that Paul and his team were having trying to produce that work on existing machining centres, due to, at the time, a lack of CAD facility and creating G-code programs longhand. The XYZ ProtoTRAK LPM machines have the PMX version of the ProtoTRAK control, so its operation was familiar from the earlier versions that DS Machining Services was using. "The conversational programming of the ProtoTRAK was perfect for the work we were being asked to produce. Since buying the first machine we have invested in a CAM system, which we can link directly to the PMX control, but we still program manually at the control as well." This control also allows background editing of programs, so that the next job can be prepared and set-up while the first is running.
An additional feature of the ProtoTRAK LPM machine is the use of the Jergens® Ball Lock system on the machine table. This consists of a series of precision located bushes set into the table whose coordinates are known by the control, allowing quick and exact set-ups to be achieved very quickly. Another aid to speedy set-up is the fact that each machine is supplied with a tool and workpiece pre-setting trolley that allows the operator to quickly and accurately set-up tools and workpieces and it is at a height that then allows the part/fixture to be slid onto the machine table.
A second LPM followed quickly as a result of increased workload and the fear of having to turn work away. Before placing the second order Paul Smith admits he did look at alternatives, that may have been cheaper: "The alternative options just couldn't handle the work we were asking the LPM's to do. We are machining S80 stainless steel on these machines on occasions and the build quality gives us the confidence to be able to push tooling hard and maximise spindle and feed rates. Without doubt, the XYZ LPM machines have made life so much easier for us and turned our game around when it comes to CNC milling. I only wish we could have had them 20 years ago as the XYZ LPM machines have made our journey so much easier. The combination of the ease of use, build quality and level of service and support have made them a very wise choice indeed."
DS Machining Services now has two XYZ ProtoTRAK LPM machines installed, which are tasked with wide variety of machining work.