World leader in transmission systems and driveline components Xtrac uses a variety of magnetic work holding devices from Eclipse Magnetics to manufacture gearboxes for the motorsport industry. Several components make up the gear box clusters, including dog rings and selector forks, and are machined on site at Xtrac's 8,200m2 purpose-built factory in Thatcham, Berkshire. Components need to be securely held in place whilst allowing for thorough access for machining processes such as cutting, turning, grinding and milling.
The most efficient and convenient method of keeping Xtrac's components in place is by using magnetic chucks and work holding systems. Chucks provide improvements in production efficiency because they allow fast set up and minimal clamping time, enabling continuous machining with excellent access.
Every department at Xtrac uses some form of magnetic holding device; from the gear cutting department to the milling and grinding department. Xtrac's magnetic chucks of choice are from the Eclipse Magnetics range, which are used on a daily basis throughout the business. Most commonly used at Xtrac are the premium permanent magnetic chucks, which are ideal for medium to heavy turning on ring type components such as dog rings. The circular design concentrates the entire magnetism from the chuck into the workpiece, thereby ensuring excellent hold.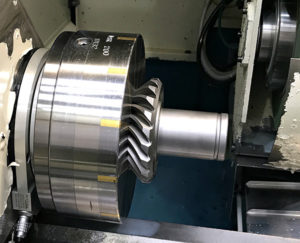 Several Eclipse Magnetics radial pole chucks are used throughout Xtrac for machining dog rings. These chucks provide the option of partial (variable) hold, and include through bores and blanking plugs. The radial pole of the chuck is radially balanced and uses a round magnet pack that rotates to switch, ensuring the chucks stay in balance when rotating. The chucks have thick metal top plates for high accuracy and a long lifespan, as well as high corrosion resistance which resists damage from coolants.
Mark Rampton, CNC Grinder at Xtrac said: "I've used these circular chucks all of my life and they are exactly what we need; they do what they say on the tin. They're very versatile, they minimise error, and they enable me to grind the parts so that they are flat and accurate.
The chucks are easy to use and are definitely the most effective method of holding for us. It's the easiest and most convenient way of keeping machined components in place; without them we would need special tooling. The dog rings can be positioned and skimmed on the machine, allowing all sides to be machined and meeting tolerance requirements of within 10 microns."
Dozens of magnetic chucks are used on several different machines within Xtrac, including a Matsura 450 horizontal machining centre, a Matsura R+ 500 vertical machining centre, several Studer machines, a Jones and Shipman 1400X surface grinder, and a variety of other grinding machines.
Eclipse Magnetics' rectangular chucks are also used at Xtrac. Chucks can be fixed to the machine bed with clamps, and components such as selector forks can be positioned and held in place. The chucks are manufactured with steel and brass laminations and integral high performance neodymium magnets in the top plate to enhance the performance.
Dave Lasenby, Manual Grinder at Xtrac said: "The Eclipse Magnetics manual rectangular chucks are perfect for us; electromagnetic chucks just aren't suitable. The manual chuck provides a variable, partial hold to the machine, meaning that the component can be adjusted manually for particularly small or thin parts such as selector forks. Any existing distortion on parts due to the heat treatment process involved in the manufacturing process can be corrected by ensuring a flat surface."
Xtrac provides complete package services to the motorsport and automotive industries, specialising in the design, manufacture and build of gearboxes and individual components for high performance transmission systems and driveline components. In order to satisfy the ever-increasing expectations of its customers, Xtrac meets the highest levels of quality in line with ISO 9001:2008 certification across the whole business. Gear cutting and manufacturing is extremely specialist, requiring high levels of accuracy and consistently meeting tight tolerances.
Supporting a wide client base covering top level professional Motorsport and high performance Automotive, Xtrac is dedicated to continuous improvement. The company has been in business for 33 years, employing machinists to work around the clock with Xtrac's own unique materials to make complex components directly from CAD data.
With virtually all of the world's top Motorsport teams relying on Xtrac's specialist expertise, 90% of the components designed and manufactured at Xtrac are for the Motorsport industry. Xtrac's gearboxes are key components in cars competing in Formula 1, IndyCar, Le Mans (LMP & GT) and World Rally Championship (WRC). As the exclusive supplier of gearboxes to IndyCar, Xtrac has recently been awarded a multiyear extension that continues the brand's long-time position as the official supplier of transmissions for the Verizon IndyCar Series.